The Weather Network – Blame the Arctic outflow: Frigid conditions descend upon BC
The big weather story for BC will be the unseasonable chill descending in the region.
A classic Arctic outflow setup will allow cold air to spill south and keep much of southwestern BC much cooler than normal for early November.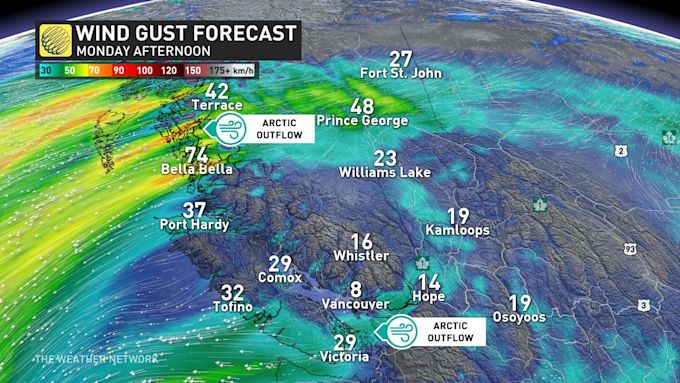 The trough responsible for dropping temperatures below -20°C in Alberta has left a fragment behind sitting over Vancouver Island. This lingering low will act as a vacuum to start the week, drawing the frigid air through the Interior and to the coast.
Temperatures will fall 5-7°C below seasonal by Monday and will continue straight into the next weekend. Vancouver will struggle to climb out of the lower single digits by the middle of the week and overnight lows could dip below freezing every night through at least Saturday.
RELATED: Windstorm causes 330,000 households to lose power in southwest BC
The Lower Mainland is too far south to take a direct hit from the Arctic air, but it will be cold enough for flurries to develop across the higher elevations around Burnaby and Surrey.
Environment and Climate Change Canada has issued Arctic outflow warnings for coastal and inland sections of the Central Coast and states that winds could gust up to 110 km/h with wind chills near -20. The frigid conditions are expected to continue through Wednesday.
Snowfall is expected in higher elevation regions and accumulations could range from 10-25 cm through Monday.
Conditions will change later on in the week when a ridge brings a return to the onshore flow. However, temperatures will remain well below seasonal into at least the third week of November.
Stay with The Weather Network for the latest on conditions across British Columbia.